To better understand Cognac's culture its place on the local cocktail scene and its history, Seattle-based writer Haley Shapley explored Seattle Cocktail Week with Portland bar owner and Cognac Educator Adam Robinson as her guide.

The universe of Cognac
By the time I got to the event organized by the BNIC as part of Seattle Cocktail Week, I was ready to dive into Cognac.
I'd spent the day at the Bartender's Circle Summit, an annual educational event in Seattle for those in the hospitality industry to get the kind of knowledge that advances their work. We had the opportunity to discover the different brands of Cognac that took part in this event.
And in one session, Cognac Educator Adam Robinson took us through the history of the spirit, pointing out the nuances in soil type, explaining the superiority of tulip-shaped glasses for tasting, and introducing the mysterious phenomenon of rancio. ("It's hard to describe, but you know it when you find it," he said.).
To make the session interactive, Adam also guided us through a tasting of six Cognac brands that took part in the event, starting with the honey-colored Cognac Park Carte Blanche VS, with floral and fruity notes, and ending with the smooth, supremely enjoyable D'USSÉ XO, layered with hints of dark chocolate, walnut, and warm spice. My palate took special notice of the Maison Ferrand 10 Générations, with a nose that smelled of apricots and caramel.
I'd also talked to Adam the previous week for a story, and so I was well acquainted by this point with the rich history behind Cognac, starting with the Dutch traders who came in search of salt and left with wine, which would later be distilled and evolve into the product that we know as Cognac today. And so at the happy hour, I was ready for that drink — not because it had been a long day, but because I was excited to taste for myself how Cognac can work in cocktails.

Unique and different options
Tucked away in a cozy, French-inspired bar called Roquette, we had the opportunity to try two Cognac cocktails over conversation. The first was a light and refreshing St-Emilion Fizz, made with Cognac (of course!), grapefruit juice, lime juice, hibiscus grenadine, Aperol, Angostura bitters, and soda water. Bright and citrusy, it paired beautifully with the sushi platters set along the bar. The second was an Old 75 with Cognac Park VS, Champagne syrup, clarified lemon juice, and black lemon bitters. Although some may think of it as a twist on the gin-based French 75, many historians believe the Cognac version came first. Whatever the case, it makes for a delicious, well-balanced cocktail that was a hit with the attendees.
As far as cocktails go, I'm pretty lucky to live in Seattle. "It is a great town to drink Cognac in," Adam told me. There are many spots in the city that have offerings both creative and classic. Roquette, the location of the happy hour, has multiple Cognac cocktails on the menu, including The Don Don't Wear Shorts, featuring Cognac François Voyer, Don Julio 1942, Vermouth di Torino, yellow chartreuse, banana, and molé bitters. At the tropical, globetrotting-themed Navy Strength, you can find the Brazilian-inspired Viva Macunaíma, which uses four forms of banana as the mid "to balance Cognac, the treble of açai and the bass of cachaça and vanilla." French restaurant L'Oursin has a straightforward after-dinner Café Français, with VSOP Cognac, espresso, cream, and cinnamon. And at the Fairmont Olympic's Founders Club, one of the newest cocktail bars in town, there are more than 30 Cognac options — some of which Adam says he's never seen at another bar in the U.S. — plus some cocktails with premium ingredients, like the Betsy Ross, which features Delamain XO Cognac, Barros 20 Year Tawny Port, Grand Marnier Cuvee du Centenaire, and Bogart's Bitters.
And so, it wasn't my first time trying Cognac cocktails, by any means, but it was the first time I went into the experience with a greater understanding of exactly what makes this spirit so singular and versatile. My newfound knowledge of Limousin oak, Ugni Blanc grapes, and long-held family traditions built out a fuller-bodied appreciation for what I was enjoying.
This kind of context helps to overcome some of the received ideas about Cognac. The bartenders I met at the happy hour and conference all knew the basics of Cognac, but many admitted they don't take advantage of the spirit's full potential. "It's so great on its own, I don't think to use it in cocktails," one woman told me. "But when you actually think to be diverse with it, it's good."

Opening Minds, and Palates
"Cognac can be a category that's a bit overwhelming for people, so getting the knowledge out there helps people feel comfortable about using it in their own programs," says Adam, who owns cocktail bar Deadshot in Portland, a few hours south of Seattle. "Bartenders are gatekeepers to new experiences and getting people to try new things." In other words, if you serve it, they will drink it.
Fortunately, Pacific Northwesterners recognize quality. While cocktail trends go in waves, one thing that never changes in this region of the world is our appreciation of hyperlocal, small-batch ingredients. In Oregon, Adam has purveyors of citrus fruits that normally can't be grown outside of California, plus garnishes like edible flowers and unique types of mint and other herbs.
With the development of Cognac on the US market — people will get to know more and more the world of Cognac.
I dream one day of dusting off my four years of French class and taking un voyage to southwestern France, to see the Charente River, the clay and limestone soils, the copper stills. Until then, I can drink in all that history at many spots around town.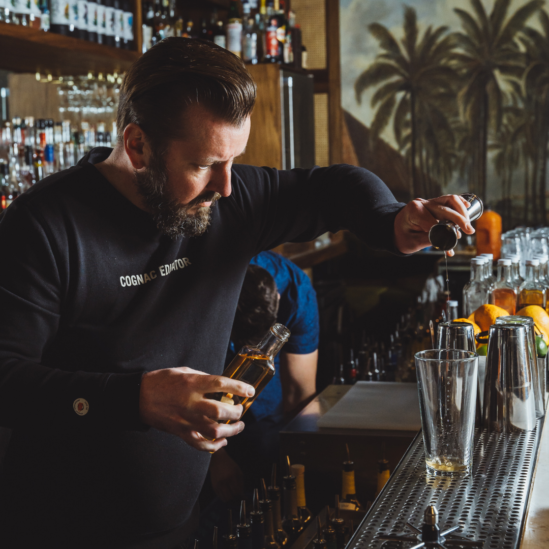 Copyrights: Jordan Hughes