Flavien Desoblin founded Copper & Oak in the heart of the Lower East Side of Manhattan to satisfy the curiosity of a new generation and share his taste for authentic materials and ingredients—even the name comes from the metal and wood that decorate the interior.
All the rage among connoisseurs, this temple of cognac tasting has developed an innovative approach to seducing an uninitiated clientele: the 'Mix-it' concept, presented in our interview.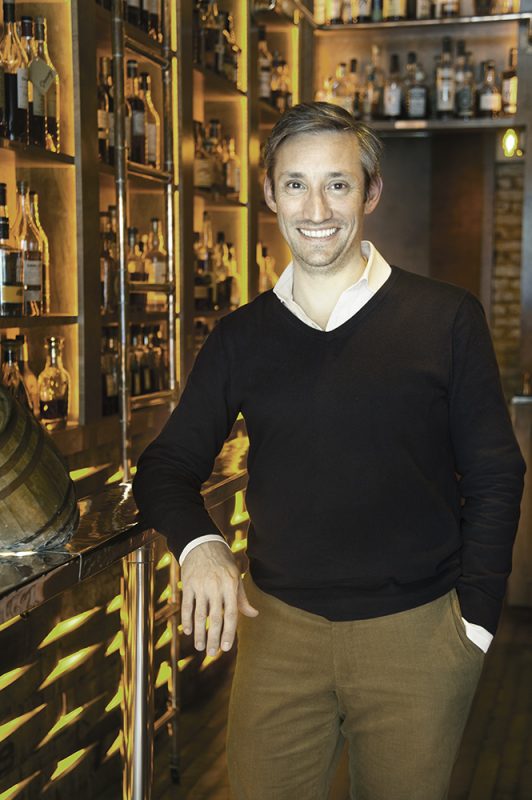 How do people enjoy cognac in New York?
F.D. Cognac cocktails are not an obvious choice for non-connoisseurs. To introduce them to clients, I offer them  with the syrup of their choice, such as jasmine, violet or ginger. I call this the "Mix-it" concept. It's not exactly a classic cocktail in the usual sense, because there is really only one ingredient: cognac, with ice and just a few drops of syrup. My customers love it!
What is the most requested cocktail at Copper & Oak?
F.D. The Sidecar is still popular here in New York because it is both delicate and refreshing with orange liqueur and lemon juice.
Can you tell me more about the perception of cognac among New Yorkers?
F.D. The new generation of twenty-somethings have no preconceived ideas about cognac, while the older generation have a more traditional image of cognac consumption, whether VS or VSOP.
In France, Cognac is on its way to renewing its status as a fashionable alcohol. How do you think bar and restaurant professionals could better ride this wave?
F.D. Everything that is retro and authentic is coming back into fashion. We see that the new generation is interested in vintage products with a history and a story to tell. Cognac is completely in line with this trend thanks to its heritage. By communicating around this we help to give added meaning to it. The tasting trend in world capitals is essentially based on this idea of authenticity. Associating food and cocktails is an interesting path to explore in order to show people that cognac is not just an after-dinner drink. It can also open the appetite or accompany dishes, and be served with or without ice depending on the flavors. Fascinating!
There is an ideal cocktail for every special occasion. Which would you recommend for a first date? Or a heartache?
F.D. For a first date, I would opt for a cocktail with a young cognac with floral notes. Something elegant to make a good impression. For a broken heart, I would advise an older, more intense cognac.
Ideas to retain:
• Suggest a "mix-it" as an introduction to cognac, combined with a syrup (violet or jasmine or caramel).
• Focus on pairing to offer new food and drink experiences.
Meet Flavien Desoblin at Copper & Oak for a drink or one of his master classes, or at the Brandy Library, which he also owns and runs.
Keep up with his latest news on Instagram:
Copper & Oak
157 Allen Street
New York, NY 10002
+1 212 460 5545
www.copperandoak.com